The challenge
To design, build and launch a fully responsive bespoke, e-commerce website for Mortar and Milk a beauty retail/treatment concept store based in Fulham.
After meeting with Pam and Nick, The founders of Mortar & Milk. We were able to fully understand the vision they had for there Brand and together create a brief that would enable us to create the entire UI/UX providing a memorable and enjoyable EXPERIENCE to the end-user.
A full set of wireframes for the desktop, tablet and mobile versions which focused on layout, content placement, solving navigation and functionality problems which takes into account user needs and user journeys for the complete site was produced, presented and discussed with M&M team.
Mortar and Milk wireframe for desktop.
After wireframes have been agreed we created and presented a full set creative visuals that would be applied to the wireframe.
Once approved we developed a fully responsive bespoke E-commerce Site with the focus being on high performing in terms of visitors/customers conversion.
After testing we launched Mortar and Milk.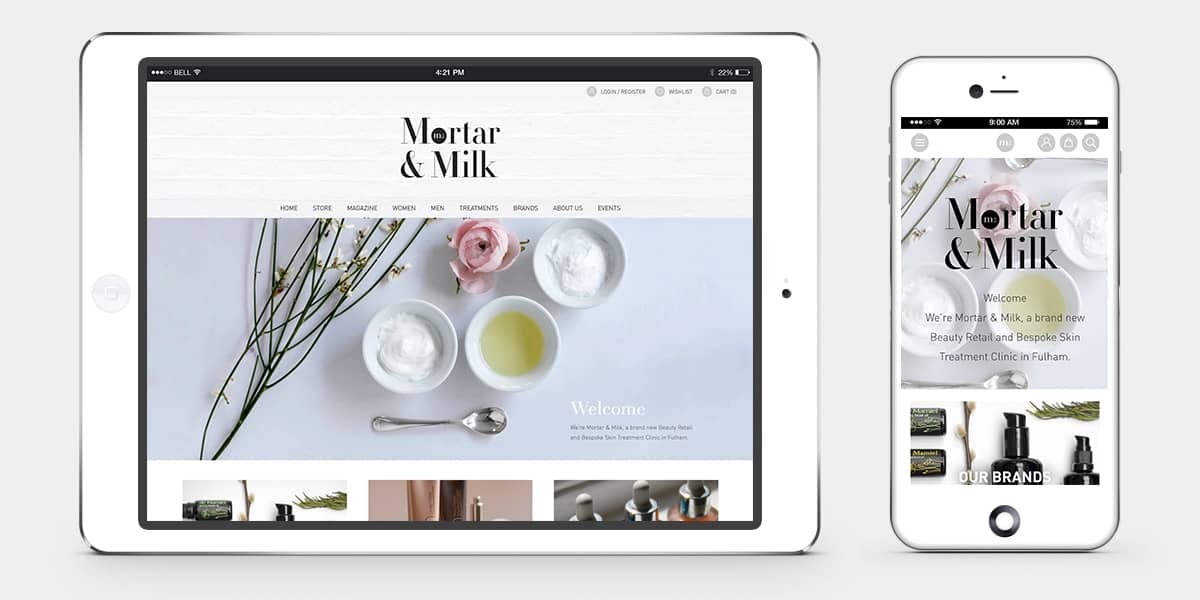 The design reflects Mortar and Milks core brand values.
To create a beauty retail/treatment concept store that rivals the competition, gives bespoke service, combines high street brands with cosmeceuticals, provides in depth analysis and treatments and that also caters to men through the creation of a 'man cave', filled with male products. The Mortar and Milk environment will be created based on making one feel 'at home' as though you are walking into cozy place, rather than just a retail store. The 'at home' experience will be felt 360 with our consultants, sales staff, store design, and over all ambiance. When you walk in, you know you are in trusting hands.

We strive to create an environment where people want to come to time and again, but will also learn about skin through inner and outer skin nutrition.
The website focuses on four distinct areas
Mortar and Milk Treatments
Create a drop-in/appointment LED light therapy service for skin rejuvenation and acne treatment.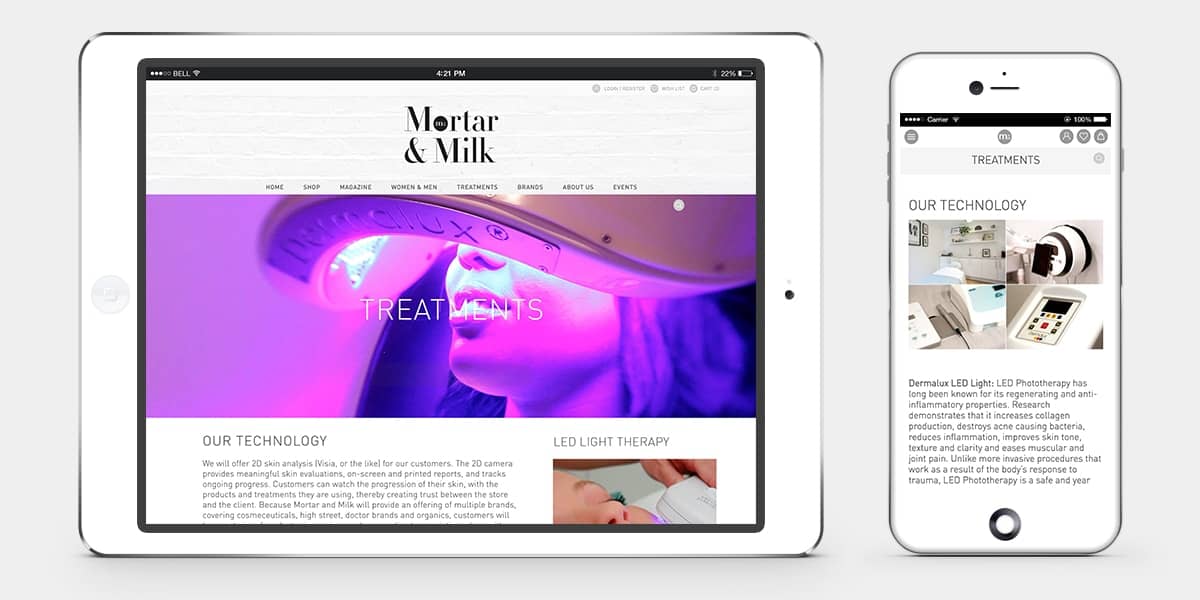 Mortar and Milk Store
The store has two distinct areas. One dedicated to men's products and One dedicated to Women's products.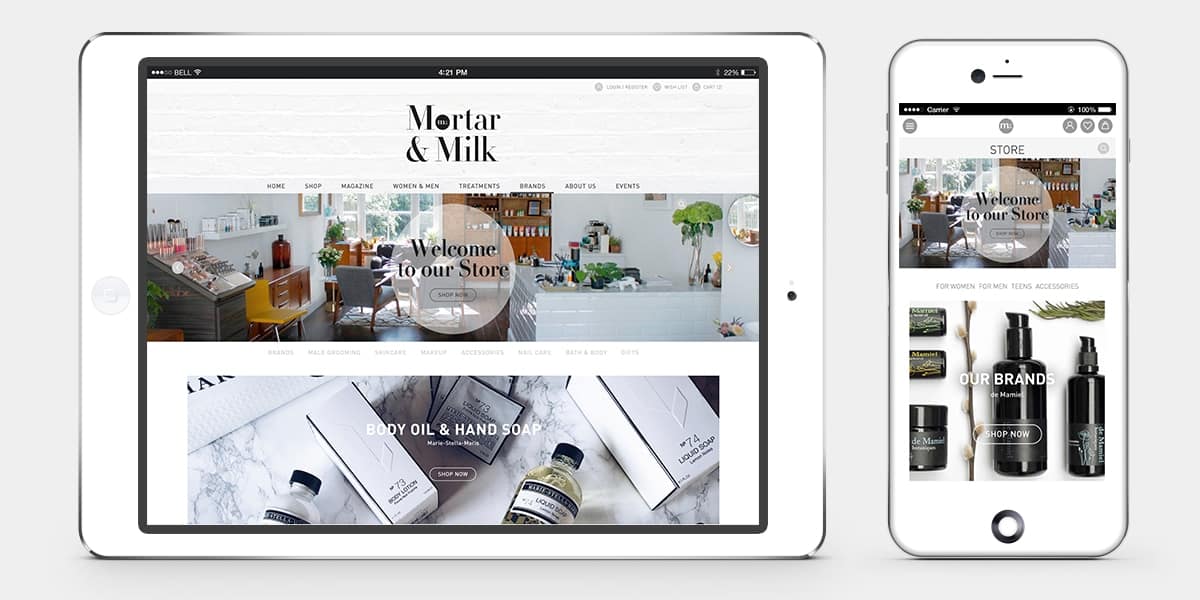 Mortar and Milk Magazine
Replaced the blog with a Magazine feel that offers the user all the latest industry news, stories, links, new products, tips and much more.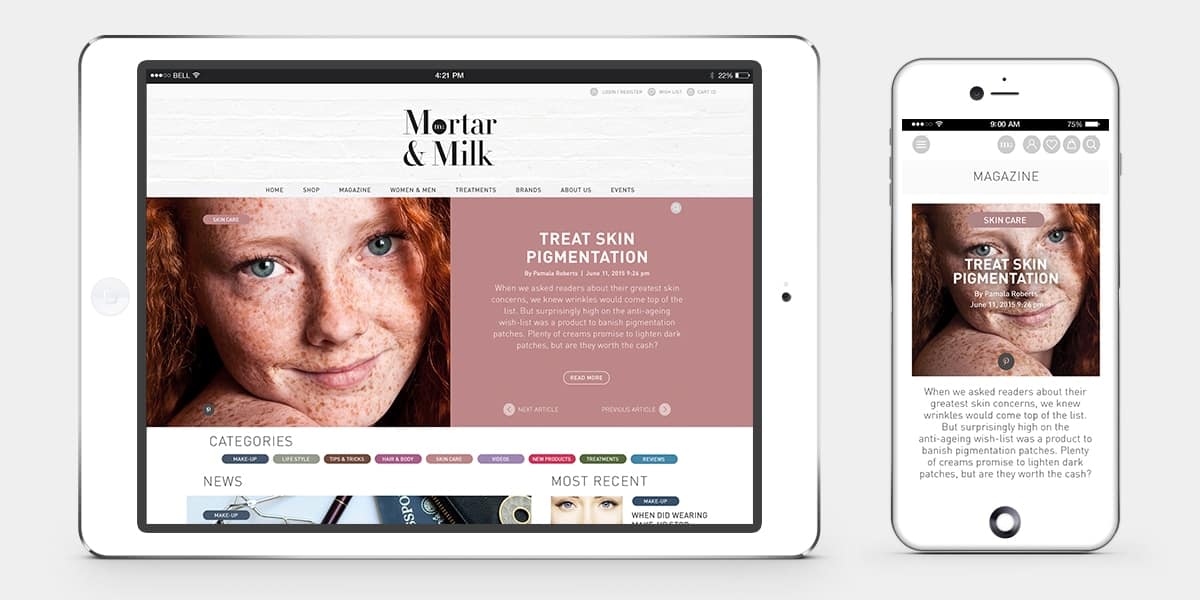 Mortar and Milk Events
Create regular pop-up events with visiting makeup artists, estheticians, nutritional consultants, and barbers.
A Unique Icon set was developed for Mortar and Milk and A small colour palette was created.
Using WordPress and WooCommerce platforms we were able to give the M&M team full control over their content and products.